---
STERLING SIREN MODEL 39R for INDIAN CHIEFS 1940-1953
---
1948 Indian Chief with all of the Police Accessorys
---
STERLING SIREN MODEL 39R - $1060, One complete assembly left.
Complete units, everything you need to mount to your Chief (except the paint). Photographic installation brochure supplied. Also, a copy of "SERVICE SHOTS" number 174, dated April 28, 1947, titled: REAR WHEEL SIREN INSTALLATION. Everything you need to know to mount the siren.
INDIAN CHIEFS, 1940-53.
---
OEM Sterling Siren 39R, 38R, 34R, or 32R.
My reproduction siren Noise Makers look just like this OEM unit. No brass ID plate, though. Indian or Harley OEM siren Noise Makers will work. Make sure the back of the siren looks like these. I have siren covers, as these are often missing or broken on originals.
---
103311B BRACKET ASSEMBLY - $700 Siren to Frame Mounting. One Bracket Assembly (no siren) remaining that includes all of the other parts.
It comes with ALL parts needed to bolt to your bike. Just add your Sterling Siren noise maker with cover. Includes the 103311C and 103311E. 102250 Pedal with Braket Assy. are included. 102233 Cable Assy. is included.
---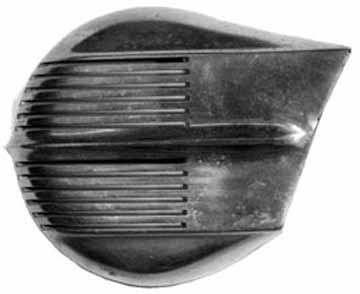 103323 - STERLING SIREN COVER - $150
INDIANS, 1940-53. Harley-Davidson 1930's.
Interior Diameter of cover is 5.306". Some modification required to fit on original siren body. I machined a small section of the outside diameter of one of my OEM sirens to make it fit. Looks and works fine.
---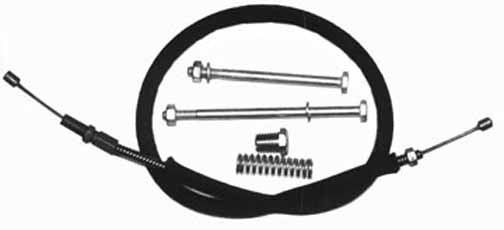 102233 - STERLING SIREN MODEL 39R CABLE and CASING ASSEMBLY - $75
Cable and Casing Assembly only. Exact replacement for originals. INDIAN CHIEFS, 38R and 39R, 1940-53.
Will not work on 38R Harley-Davidson Sirens. Harley and Indian cables have different spirals.
---
STERLING SIREN MODEL 39R BRACKET CLAMP - $35
INDIAN CHIEFS, 1940-53.
---
STERLING SIREN MODEL 39R BRACKET EXTENSION - $35
INDIAN CHIEFS, 1944-53.
---