---
SEAT BARS for HARLEY-DAVIDSON, 1938-1960's
---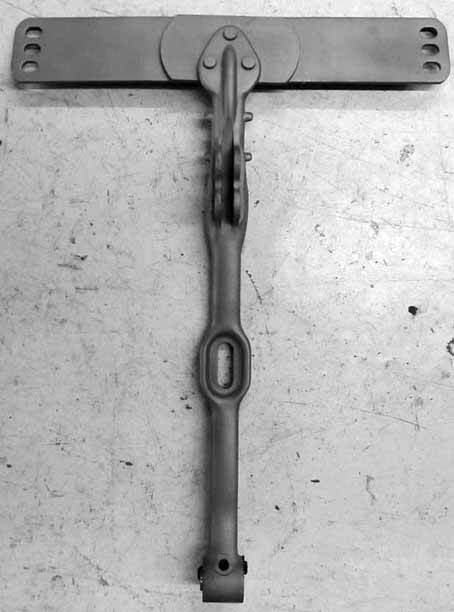 51900-36 type 2 - SEAT BAR (SEAT T)- ORIGINAL - $200
Harley, factory made Seat Bar. 1941 thru mid-1950's. With new double bushings.
This is just like the 1938-1940 version except the grease fitting is on the bottom of the nose instead of the top.
I used this Seat Bar for fixturing and comparision when I was manufacturing these.
---
3103-29 - UPPER SEAT BAR PLATE (6 hole shown, or 4 hole)- $18
3103-29S - LOWER SEAT BAR PLATE- $10
Spring steel plates for the rear cross bar, 0.125" thick. Black color results from the heat treating process. Easily removed by blasting. 3103-29S short plate was used, in addition to the long plate, as reinforcement starting on some Seat Bars in 1933 through 1964. 1929-1964, Big Twins & 45".
---
3110-37 - SEAT BAR BUSHING SET - $16, PRICE REDUCTION, I made more of these than I need.
USA made hardened, ground, Steel Double Bushings. IMPROVED FIT for OEM and reproduction Seat Bars. Colony retail is $30.
Big Twins, late 1937-1964. 45" solo and Servicars, 1937-1973.
---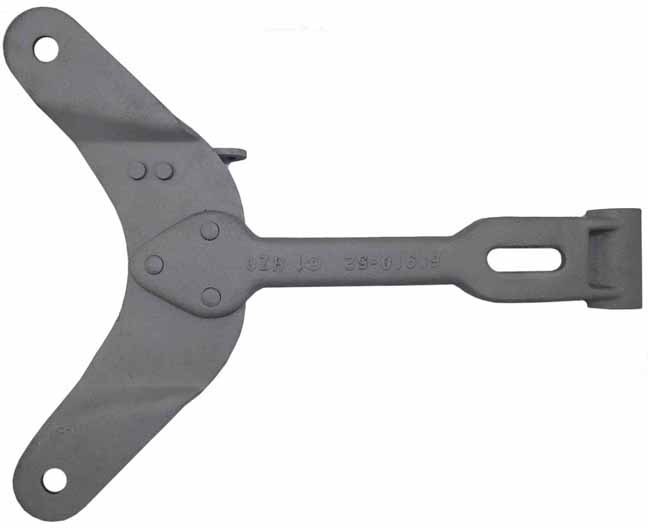 51902-54 - SEAT BAR (SEAT T)- $200
Solo seats. 1954-1956 K models, 1957 to late 1960's Sportsters. With SAE660 bronze bushings.
Looks just like the originals. 4140 chromoly steel cast bracket. Raised characters: "51910-52 C1 HZQ" clearly visable, as per originals.
Center to Center hole distance for the 0.390" holes on the rear plate - 6 5/8". After measuring original and reproduction seats, this was my best guess. Weld and redrill as needed.
---