---
1947 Indian Chief For Sale, #9, 3472702/CDG2166. $10,000 with NM title in my name.
A much more complete description available, if you really need it, as 12 email attachments. No big revelations, just more detail.
No junk or damaged parts unless specifically noted. All parts are good and usable, requiring normal restoration methods.
The bike is "matching numbers" by AMCA standards: Motor and frame are the same year.
Bike would make a nice Bobber. Easier to build, work on, and pay for than a stock Chief. Adding a 12 volt system with electronic ignition is recommended.
---
#9: 1947 Indian Chief, 1947 frame and motor, 3472702 / CDG2166.
Standard 74 Cubic inch motor.
---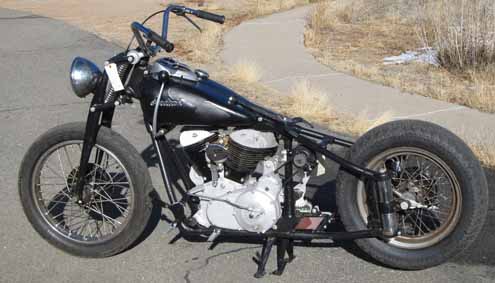 1. Original 1947 Frame, 3472702.
All Indian frames need straightening. Good kicker pin repair. Replacement casting supplied if you want it to look NOT repaired.
Frame has all tabs and brackets. Exception is fork stop under the headstock, replacement supplied.
Complete set rear shocks. OEM used chrome covers. Good springs and bushings. Taken apart and properly assembled by me.
OEM top shock mounting bolts. New headstock bearings.
Battery tray. OEM footboard mounting cleats.
Jiffy Stand assembly, 4140 chromoly steel. Has a mounted Center Stand, 4140 chromoly steel, and flat spring.
---
2. GAS TANKS, WHEELS and BRAKES, SPEEDO DRIVE, BRAKE and CLUTCH CONTROLS, SPROCKETS, SEAT BAR.
OEM 1947 Fuel Tanks are solid and rust free. Petcock in right tank soldered is in place and needs to be removed. All 4 oil tank fitting included. Stainless steel gas & oil caps. JMB Indian script emblems properly attached directly to the gas tanks with 3 each #2-56 screws, as per original. All filler and dents can be easily seen through light coat of black primer.
2 wheels and a hub, with 2 good hubs between them. Rear wheel to be used for a lacing pattern when assembling new wheels (not hard to do). The 2 OEM wheel hubs are complete. OEM parts include good: brake shoes, brake backing plates, all axles, brake drums (no rear sprocket), Brake Cam Levers, rear chain adjustor and spacer.
Rear speedo drive is attached and works well.
Front and Rear Brake Control assemblies are complete and the brakes work. All parts are correct for 1947. JMB Stainless control rods. JMB brake bell crank (4140 chromoly). Correct Hand Brake Lever and heavy brake cable.
No rear sprocket or chain. New trans sprocket, too small to use.
No seat. OEM cast steel Seat T. One loop end is broken off, left side. Can be fabricated and welded on.
---
3.SHIFTER, HANDLEBARS.
Greer, new Left Hand Shifter, unplated. With JMB Indian Headress Shift Knob. Stainless control rod. OEM, correct 1947 Shifter Bellcranks.
Handlebars are modern, 1 inch, external controls. NOS Dimmer Switch. Maybe OEM Horn Button. Both mounted to handlebars. OEM Hand Brake Lever.
---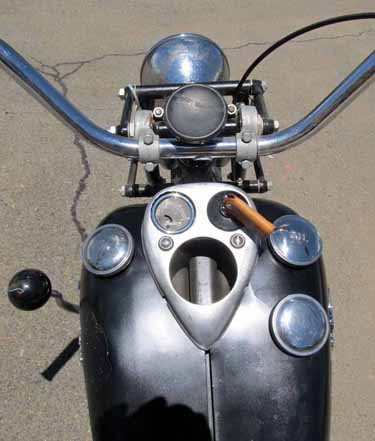 4.ELECTRICAL.
Aluminum Dash Panel, 1938-1947. Ignition Switch with keys, rebuilt by me, Stark top with the rest OEM. OEM 1947 Ampmeter in need of restoration.
OEM Dimmer Switch and Horn Button Assy. OEM Motolamp Headlight, Autolite Distributor and Generator.
---
5. FRONT FORKS, LIGHTS.
Forks modified to 1948 specs. New bushings, fork shafts, grease fittings, and 5/16" fender mount bolts. Shafts fitted to bushings with a long, Sunnen hone (gold standard). Cadmium plated small parts, chromed OEM springs, good reproduction shock. OEM Bakelite Steering Damper Knob, cracked and glue repaired. New rubber bushings in OEM risers. Correct riser bolts.
OEM Motolamp Headlight with fading chrome shell. No dents. Bakelite Junction Block Assy. OEM bezel, OEM Motolamp Lens, new Reflector. New 6 volt bulb with a good plug assembly. No tail light, fender light, or speedo light.
---
6. CADMIUM PLATING, PRIMARY, FUEL SYSTEM.
Almost all hardware is cadmium plated like OEM, and is new or in very good condition.
Good outer and inner primary cases. All parts in primary cases are good OEM. New generator drive pully with new bushings. Original clutch plates and springs, good. I like Greer replacements. No primary chain.
Original M344 Linkert Carburetor (only needs a float), new JMB Fuel Filter Assy. with OEM Filter Stack, new JMB Indian Script Airhorn (Linkert type). 1947 Cast Iron type OEM Intake Manifold with OEM Manifold Nuts. Needs petcocks and fuel line.
---
7. MOTOR, TRANSMISSION, KICKER and GEAR ASSY., GENERATOR, DISTRIBUTOR.
1947 Chief Powerplant, 74 cubic inches. Powerplant requires a standard rebuild. Does not run.
Original flywheels, rods, and good 74" heads. Good cylinders.
Original standard cams and gears, good. Original standard cam followers, suggest new pins and rollers.
Original cast iron oil pump, complete, 1947 only. Needs to be properly fitted and tested.
Original transmission in good shape, new bearings and new bushings. Need to replace slider and cluster gears.
Original 10 tooth Kicker and Kicker Gear, 32 tooth for distributor ignition.
Original Autolite, 6 volt generator. Complete, motors but not rebuilt. OEM mounting bracket and cap.
Original Auto-Lite distributor. Complete and rebuilt by me.
No exhaust. Indian used 1 5/8" OD tubing.
---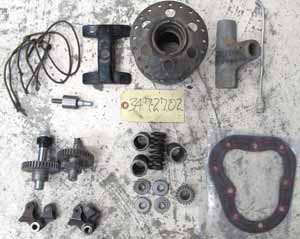 8.Parts in a box.
Fork Stop under headstock, steel battery frog, OEM wheel hub, replacement casting for kicker pin, oil tank breather fitting, cams, cam followeres, valve springs, retainers, pinion gear, James head gaskets, 6 volt coil with bracket (not shown).
---