---
1946 indian Chief For Sale, # 8, 3466667/CDG9238. 80" motor with Bonnevile cams and followers. $11,000 with NM title in my name.
A much more complete description available, if you really need it, as 12 email attachments. No big revelations, just more detail.
No junk or damaged parts unless specifically noted. All parts are good and usable, requiring normal restoration methods.
The bike is NOT "matching numbers" by AMCA standards: Motor and frame are different years. A set of 1946 cases is included if you want "matching numbers".
Bike would make a nice hot rod Bobber. Easier to build, work on, and pay for, than a stock Chief. Adding a 12 volt system with electronic ignition is recommended.
---

#8: 1946 Indian Chief, 1946 frame with a 1947 motor, 3466667 / CDG9238.
80 Cubic inch motor, Bonneville cams and followers. Correct 80" heads. 12 tooth, long, 80" kicker.
Set of 1946 cases with timing cover are included, CDF979.
---
1.Original 1946 Frame, 3466667.
All Indian frames need straightening. Frame has all brackets and tabs. Mesh between kicker and gear is too open. Straighten frame or use an offset kicker pin.
Complete set rear shocks. Some OEM used chrome covers. Good springs and bushings. Taken apart and properly assembled by me.
OEM top shock mounting bolts. New headstock bearings.
OEM used footboards and mounting cleats.
OEM battery tray with new replacement tray.
Jiffy Stand assembly, 4140 chromoly steel. Has a mounted OEM Center Stand and flat spring, not shown.
---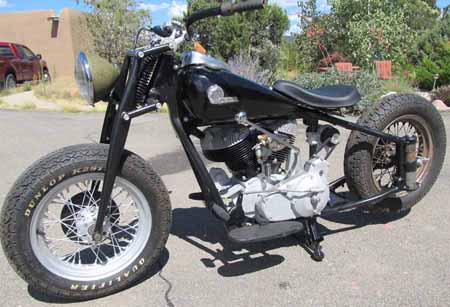 2. GAS TANKS, WHEELS and BRAKES, SPEEDO DRIVE, BRAKE and CLUTCH CONTROLS, SPROCKETS, SADDLE & SEAT T.
OEM 1946 Gas Tanks are solid and rust free. All 4 oil tank fittings, no petcocks. OEM 1942-46 Indian head tank emblems, very rare, are properly mounted.
3 wheels and a hub. 2 good hubs between them. OEM wheels to be used as wheel building patterns. OEM hubs have complete internals. OEM front and rear brake drums have complete internals. All lug nuts. OEM & correct shoes, brake backing plates, brake cam levers, front axle. JMB rear axle, & good hollow axles. OEM rear chain adjustor, & spacer.
OEM Corbin Rear speedo drive that works.
Brake and clutch pedals are correct for 1946. JMB control rods are stainless. OEM brake cam levers w/correct bolts. JMB rear brake bellcrank, 4140 steel. OEM front brake lever with JMB heavy brake cable. 3 forged rod clevises. Front and rear brakes work.
No rear sprocket. Transmission sprocket new but undersized.
Saddle: Corbin-Gentry, HD K-Model, leather seat, new. OEM Seat T with end loops broken off. Seat T plate for custom mounting seat.
---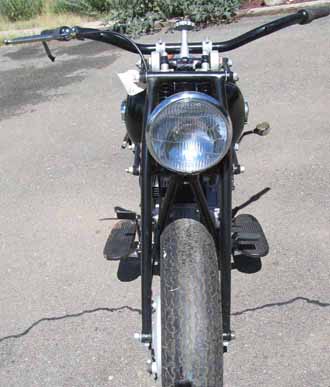 3. SHIFTER, HANDLEBARS.
Old Iron Designs Left Hand Jockey Shifter. Polished stainless steel with JMB chromed accessory Indian Head Shift Knob. No linkage or bellcranks.
OEM handlebars, never plated, not great. Control sleeve nuts Parkerized. No control sleeves. OEM hand brake lever. Front brakes work.
---
4. ELECTRICAL.
Aluminum 3 hole Dash Panel, 1938-1947. OEM Ignition Switch with keys, rebuilt by me, Stark replacement top. OEM 1947 Ampmeter in need of restoration.
OEM Motolamp Headlight, Autolite Distributor and Generator.
---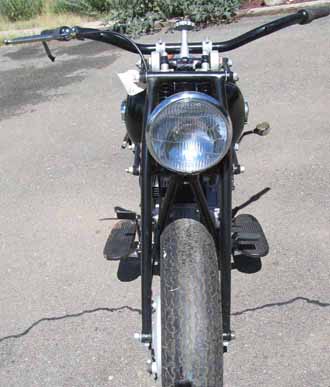 5. FRONT FORKS, LIGHTS.
Forks modified to 1948 specs. New bushings, fork shafts, & grease fittings. Shafts fitted to bushings with a long, Sunnen hone (gold standard). Cadmium plated small parts, new springs, OEM MONROE shock. JMB Indian Steering Damper Knob, cadmium plated. New rubber bushings in OEM risers. Correct riser bolts (4).
NOS Motolamp Headlight shell, original OD green. No dents. NOS Bakelite Junction Block Assy. OEM chromed bezel, OEM Motolamp Lens, new Reflector. New 6 volt bulb with a good plug assembly. Add 6 volts and it will light up. No tail light, fender light, or speedo light.
---
6. CADMIUM PLATING, PRIMARY, FUEL SYSTEM.
Almost all hardware is cadmium plated like OEM, and is new or in very good condition.
Good outer and inner primary cases. All parts in primary cases are good OEM. New generator drive pully with new bushings. Original clutch plates and springs, good. I like Greer replacements. No primary chain.
Original M344 Linkert Carburetor (only needs a float), new JMB Fuel Filter Assy. with OEM Filter Stack, new JMB Indian Script Airhorn (Linkert type). 1947 Cast Iron type OEM Intake Manifold with OEM Manifold Nuts. Needs petcocks and fuel line.
---
7. MOTOR, TRANSMISSION, KICKER and GEAR ASSY., GENERATOR, DISTRIBUTOR.
Powerplant requires a standard rebuild. Does not run.
Original 80" flywheels, rods, and good 80" heads. Recommend T&O 80" flywheels. Cases matched from the factory.
Original Bonneville cams and gears, good. Original Bonneville cam followers, good rollers. Mosher ground ramps.
Original cast iron oil pump, complete, 1947 only. Needs to be properly fitted and tested.
Original transmission in good shape, new bearings and good bushings, complete. Need to replace slider and cluster gears.
JMB 12 tooth kicker, black, 1952-53 long type for 80" motors. Matching Kicker Gear, 32 tooth for distributor ignition.
Original Autolite, 6 volt generator. Complete, motors but not rebuilt. New bearings, good brushes, good high output field coils and GAS2076 armature. OEM mounting bracket and cap.
Original Auto-Lite distributor. Complete and rebuilt by me.
---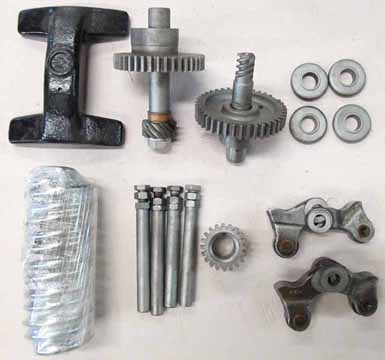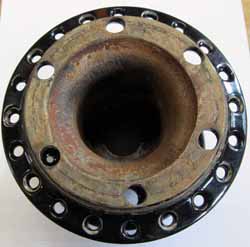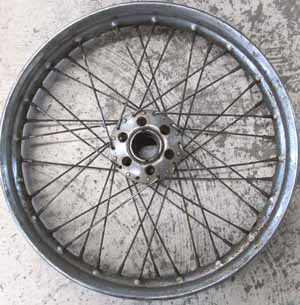 PARTS in a BOX, plus a WHEEL.
Steel battery frog, OEM Bonny cams, OEM valve cap set of 4, external seat springs, OEM pushrods, OEM pinion gear, OEM Bonny cam followers with Mosher ground ramps.
OEM hub, powdercoated, for front wheel.
19" wheel with good hub. Hub is chrome plated and can be sand blasted and powdercosted. For rear wheel.
---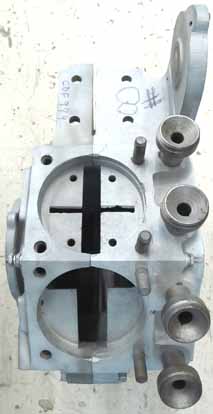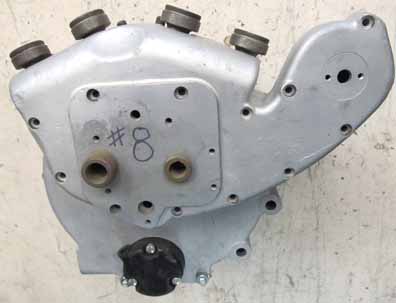 1946 ENGINE CASES, CDF979, plus an early 1946 TIMING COVER. These come with the bike.
If you want a 1946 motor in your 1946 frame. Right case half is 1938 with later push rod guides. Has correct cast iron sump valve. Timing cover is early 1946 type correct for low numbered 1946 cases. Cases can be matched (light cylinder base decking to 42 degrees) during the normal rebuild.
---