---
NIFTY ITEMS
---
FR3 - FRAME MOUNT for SEAT T BRACKET - $50, limited supply
Chiefs and Fours. 4140 Chromoly Steel Casting. Easily welded or brazed to frame. Cut the big loop in half and install for a more authintic installation.
Not a fabrication made of many parts. A one piece casting like the originals (except in 4140 chromoly and not in mild steel). NOT $65.
---
AR21 - CHEVRON FOOTPAD- $40
2 each set screws. Top of Footpad is 4.5" x 1.5". Period Accessory for Harley, Indian and Henderson Clutch Pedals and non-cast Brake Pedals.
---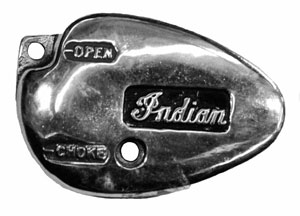 AIRHORN I - Chromed steel - $65
Most likly made by Linkert for Linkert Carbs. Made in the USA.
---
100185 - AIR HORN - NICKEL PLATED STEEL - $65
Note that original AIR HORNS were always made of cast steel (exception was the very rare 1935 version). NEVER aluminum, bronze or mystery metal.
Made from an NOS part. Nickle plated. Cast steel, open backed, 3 1/4" diameter.
1928-1935 Chiefs and Scouts. Junior Scouts thru 1939. Made in the USA.
Made in the USA by me, like all my parts. I have the mold and pour the waxes. Cast at a Texas foundry. Machined in my shop. Nickel plated in Texas.
---
161035 - SAINT CHRISTOPHER MEDAL for MOTORCYCLIST'S, 1" diameter, nickle clip, sterling silver - $40
Sterling Silver with a Nickle clip.
"Sometimes it's more than luck that keeps the wheels turning just right."
These medals were first introduced in the 1949 Atlas Motorcycle Accessories Catalog.
---
HEADSTOCK EMBLEM, bronze - $25
3" X 1 7/8", curved to fit 1 1/2" headstock, from an Indian Racing Bicycle. Incredible raised artwork. Faithful reproduction. Originals were German Silver.
These will remain in production.
---
1935AC - 1935 DEALER ACCESSORY CATALOG - $10.
5.5" x 8.5". 28 pages. For all mid-1930's Indians. Great documentation resource.
---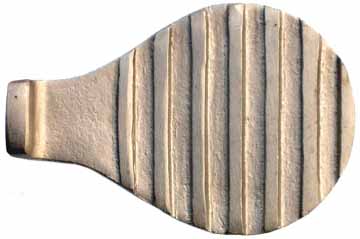 FOOTPAD with LIP - STEEL - $45 nickel plated, MADE IN USA
Mine are 4140 Chromoly and nickel plated. All model Indian clutch and brake pedals.
---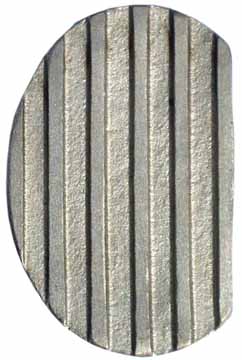 FOOTPAD - STEEL - $45 nickel plated, MADE IN USA
Mine are 4140 Chromoly and have 2 each 1/4-20 set screws. Originals were grey iron with 1 set screw. Aluminum won't work. Set screws would loosen or strip, off comes the Footpad. All model Indian clutch and brake pedals. Normally used on rear clutch pedal. I use 3 of these on my 1951 Chief.
---