---
MISCELLANEOUS INDIAN PARTS: All Models, Chief, Four, and Scouts
---
ORIGINAL INDIAN OIL CAN, 1948-1951 - COMING
OEM Oil Can, empty. Originally used in an Indian Dealer's shop as a Parts Can.
---
741 SCOUT FORK ASSEMBLY - $1500
This is a very good front fork assembly. Moves smoothly. A combination of original and reproduction parts.
Original parts include the Fork Leg, Upper Triple Tree, Spring Perch, Handlebar Center Casting, Upper Bearings, and Bakelite Steering Damper Knob (rare).
NEW reproduction parts include the Lower Triple Tree and (4) Fork Links (all heat treated 4140 chromoly steel, my old stock), 4 Shafts, Steering Damper Assembly, Side Damper Assemblies, 4140 chromoly steel (2) Damper Handles, Springs and hardware.
Top of headlight mount was modified. A replacement casting supplied.
---
524003/5 - ORIGINAL INDIAN GAS TANK EMBLEMS, 1942-1946, all models- $730, one pair
OEM emblems in good, usable condition. Price determined from recent eBay results.
---
39548 - SPORT SCOUT DAMPER HAND WHEEL- $100, one only
ORIGINAL, Bakelite, Hand Wheel used on the side dampers of 1934-1938 Sport Scouts. Good condition. Two were used per motorcycle.
---
FR13a - FRAME MOUNT for SEAT T BRACKET - $65, limited supply
741's and Sport Scouts. 4140 Chromoly Steel Casting. Easily welded or brazed to frame. Cut the big loop in half and install for a more authentic installation.
---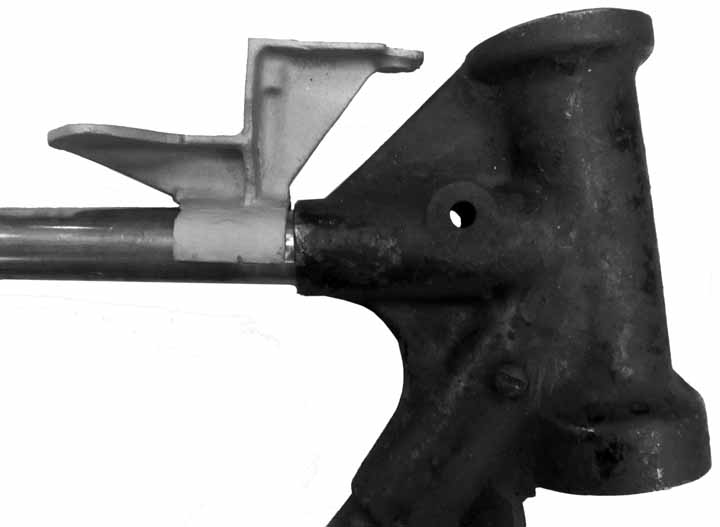 FR21 - INSTRUMENT PANEL AND SPEEDOMETER MOUNT - $60, limited supply
Sport Scout 1938-1942. Annealed 4140 Chromoly Steel Casting. Easily welded or brazed to frame. Instrument Panel and Speedo mount holes are not drilled.
---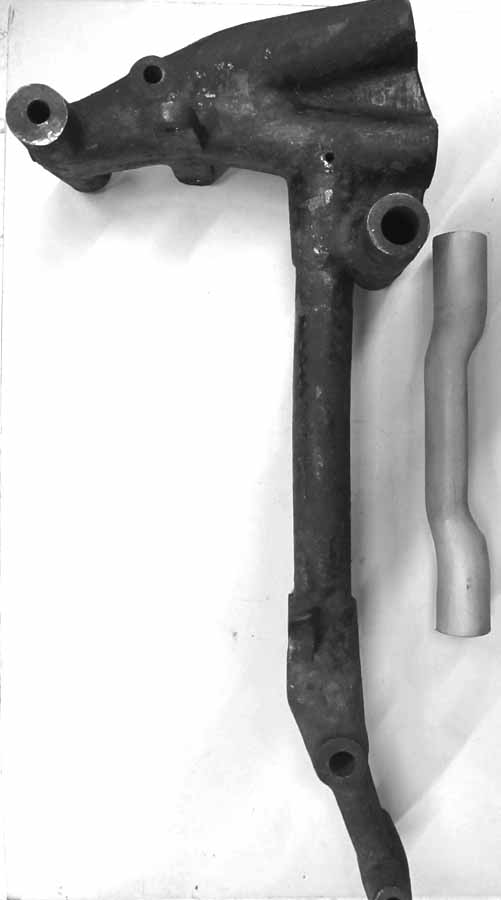 SCOUT-2 - REAR FRAME TUBE CASTING - $75, limited supply
Sport Scouts. Replaces rear tube on 1939 and earlier front frame sections. Allows for larger finned 1940-42 rear cylinder. Original 1940-1942 tube was cast, as are mine. 4140 Chromoly Steel Casting. Easily welded or brazed to frame.
---
42466 - REAR BRAKE BELLCRANK - $75, coming.
Chiefs 1940-1953. Heat treated 4140 Chromoly Steel Casting to Rockwell 40C. Cadmium plated.
---

17B91X1, Indian, 1917-1921, 1 inch bars,Cadmium plated, shown $150
Modestly polished and Shiney Nickel Plated, $175

F24279X, Indian, 1912-1916, 7/8 inch bars,Cadmium plated only, shown $150
---
76252, Indian, 1941-1945, Chrome Plated, $65
76252, Indian, 1941-1945, Plain, $45
Lever only. These will work with original Indian Brackets.
---
38757 - REAR BRAKE CAM LEVER - $25
SPORT & JR. SCOUTS 1934-1940
---
36B225 - SIDECAR BRAKE CAM LEVER - $25
All Sidecars 1934-1942
---