Last update: APRIL 06, 2014.
Michael Breeding's Motorcycle Parts and Accessories Catalog!
Michael Breeding
20 Hondo Trail
Santa Fe, New Mexico
87508-5936
phone/FAX 505-989-7884
EMAIL:mike@mikesindianparts.com
I answer all of my emails promptly. I take my Ipad with me when I travel.
VISA, MasterCard, and PayPal are accepted. Sorry, no online ordering.
Hours: Monday through Saturday 8am - 6pm MST.
Please note the above website addresses all point to this website.
Cosmetically accurate 4140 chromly steel castings for pre-WW2 Harley-Davidson, Vincent, Henderson and Indian motorcycles. Check out the New and Coming parts section along with the marque sections. I do my own website and these are updated frequently.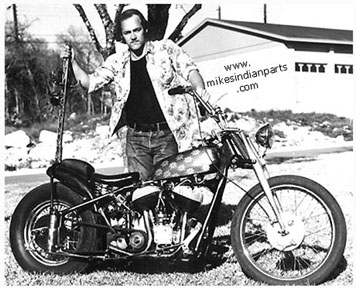 Here I am with my modified and less-than-tastefully bobbed 1953 Chief in 1969, when I was 20. I still have this machine, although it looks more original now. The gas tank (made for British racing bikes) held a little more than a gallon, and the oil tank 2 quarts. Noise laws were lax back then, but I eventually found a muffler after the neighbors complained. "Z" bars and HD type bronze risers were in vogue. I liked the '36 instrument panel and the hair I no longer have.
HENDERSON MOTORCYCLE PARTS:
---
INDIAN MOTORCYCLE PARTS to 1953:
---
ORIGINAL PARTS - PICTURE GROUPS
---
Increased Performance, Milage, Starting, Drivability, and Cooling. Complete "Easy Bolt On" kit.
---